Comstock Records of Arizona
Promoting Country Music for Over 25 Years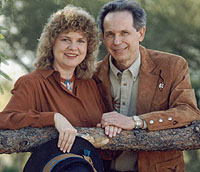 Patty Parker & Frank Fara
Photo by Val Jesse
Comstock Records was born in 1978, the same year that its founders Frank Fara and Patty Parker closed down their popular Country road show. Fara & Parker had been on tour in the United States and Canada for the five previous years promoting The Frank Fara Show featuring Patty Parker. The highlight of the show was Pretty Patty on vocals & drums (then one of the only female country music drummers touring) and Frank's true grit songs of the real West.
In every town they played their first stop was always the local radio station to present their latest single record release. In this way they visited hundreds of DJ's and radio stations across all North America. Soon their singles and album were being played from the tip of Texas far up into Canada and beyond. History was in the making.
Their homegrown promotions worked so well that other road bands & singers were soon attracted to their success. One of the first to notice was Canadian singer Alex Fraser. He asked Frank & Patty if they could do for him what they had been doing for themselves -Get his record on the radio! At that moment Comstock Records became a reality. Alex's first record, produced & promoted by Comstock went on to become his and Comstock's first Top Ten national single! Alex Fraser's career blossomed into nominations, TV shows and a national distribution deal.
In 1984 Fara and Parker were introduced to a lady DJ in England. That chance meeting led to a trip to the UK and introductions to many new DJ friends who were just catching the Country Music wave. It didn't take long before Comstock had networks of supporting stations all across Europe. In years to follow more and more nations and stations have been added to Comstock's mailing list until it is now truly one of most known country promotion labels in the world.
A label is only as good as its artists and Comstock is proud that it has the best. In 1998 Comstock was awarded Indie label of the year in Europe by the ECMA. In the words of one DJ...Comstock has succeeded because of its quality - it's the Mercedes of Indie labels!
Frank Fara & Patty Parker are the authors of the book

How To Open Doors
in the Music Industry
The Independent Way

Available on the internet at

Also available by Mail Order from
View/Print Order Form - Download Order Form (.doc)
For more information e-mail: info@comstockrecords.com