Music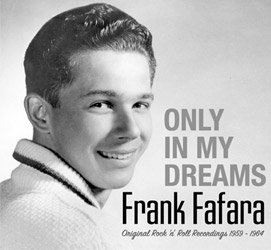 LISTEN NOW! to a selection of five songs from the album
Launch player in new window
1. Only in My Dreams

2. Gotta Get to You

3. Lovemaker, Lovebreaker

4. Miss You, Dee

5. Iím So Sorry Now

6. Golden One

7. Itís Time to Quit Crying
8. A Tear Has Taken Your Place
9. Mr. Echo
10. One Kiss to Remember
All songs written by Frank Fafara (BMI)
1-4 Desert Palms BMI (MCI Records #1022, #1026)
5,6,8 Rocky Bell Music BMI (Mascot Records #102, #103)
7,9,10 Rocky Bell Music BMI (not released)

Recorded at Audio Recorders & Magnatronics
Engineers: Songs 1-7 Jack Miller ~ Songs 8,9,10 Bill Miller
Executive Producer ~ Jack Curtis

Musicians: Songs 1-5 Richard Meyer ~ Lead Guitar, Jim Schultz ~ Drums, Frank Fafara ~ Rhythm Guitar, Al Casey ~ Bass, Bob Stout ~ Background Vocals
Songs 6-10 Bob Knisley ~ Lead Guitar, Jimmy Falberg ~ Bass, Gilbert Bernal ~ Drums, Connie Conway ~ Snare/Brushes, Jimmy Wilcox ~ Upright Bass, Al Casey ~ Lead Guitar, Peggy & Pam (The Dreams) ~ Background Vocals

Cover Photo: Hiro Nomura ~ Booklet Photos: Johnny Franklin
Album Concept & Design: Patty Parker


Frank Fafaraís ďOnly In My DreamsĒ album of 10 original recordings written by Frank is available in an attractive retro album look CD digipak style with 6 panels of many vintage Black & White photos from the 1950ís & 60ís era.
FRANK'S INTERVIEW on ARIZONA MUSIC SHOWCASE ~ HEAR IT NOW !!
Launch player in new window
Listen to the in depth interview with Frank Fafara which was broadcast on Radio Free Phoenix hosted by Andy Olson on his show Arizona Music Showcase. Frank relates stories about Phoenix Rock 'n' Roll days in the 1960's !