Memory Lane
KPHO-TV Show - Teen Beat - Running Bear
This was taken on the Teen Beat TV show set where they constructed a teepee and feather headdress for us to wear. Mike Condello, Bob Dearborn, Rich Post and myself all sat on the floor with our instruments while I sang the popular song ďRunning BearĒ. The sound men had to set up tiny little microphone stands in front of us. Thatís me singing in the center of photo.
Frankmo - Wallace&Ladmo - Condello
I was given a tall Ladmo style top hat, and a long, long Ladmo neck tie, striped shirt and then stepped out on stage with Ladmo and Wallace as Ladmoís Brother Frankmo. Thatís me on the far left, Mike Condello in back on guitar. The routine worked so well that we did it many times, both on TV and in live shows at Legend City. The fans really liked it and it gave me more time to spend on stage with two of the funniest entertainers the valley has ever known.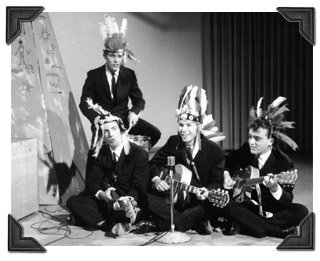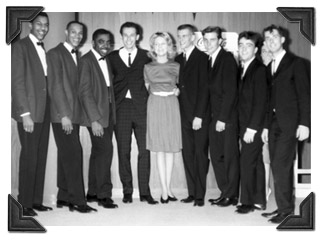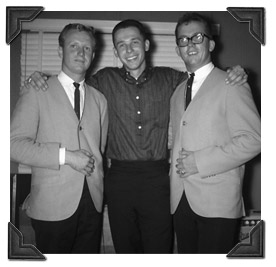 Rock 'n' Roll Extravaganza
Hereís a line up of talent from a big RockíníRoll show circa 1962. Left to right: The La Chords, myself, Doreen Hankins, Nick Landers, Richard Post, Mike Condello and Bob Dearborn.
Fafara Era Band 1963 - 1964
Left to right: John Lambert, myself & Fred Allard. This was my personal band circa 1963. Fred played lead guitar, John was bass and myself on rhythm guitar. Not pictured is our drummer Mike Thomas. We played most every armory, club and dance hall in Arizona.