About Frank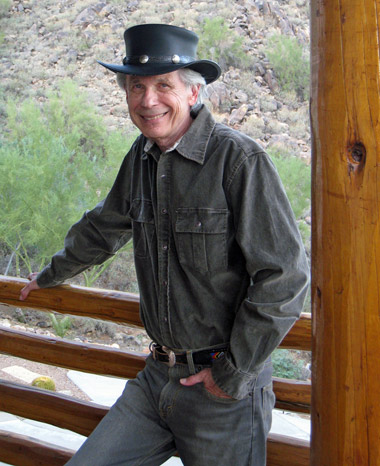 Frank Fara's "Songs of the Untamed West" is a treasure trove of New songs about the Old West
Frank has always been a great fan of the Old West. For years his labor of love has been to put together an album of his original songs which would add a new dimension of excitement to the pages of western history. Frank's album of iconic legends and events, featuring memorable lyrics and entertaining music, does just that. His songs have often been called "3 minute movies" since they provide the listener visual images set in an audio format. Frank believes that the future looks bright and he hopes that his legacy of songs will become a permanent part of the telling of the West
Frank Fara's career has come full circle with the release of his " Songs of the Untamed West"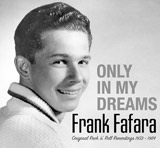 Frank Fara started singing in high school and became a teen star in Arizona when his first recording "Only in My Dreams" hit Top 10 on Phoenix Radio Charts. He continued song writing and performing on radio and TV throughout his college days
Paul Marshall ~ Patty & Frank ~ Keith Johnson
Moving to California Frank met his wife to be, Patty Parker, at a neighborhood jam session. The two singers formed their own Country band with Paul Marshall on bass and Keith Johnson on lead guitar and went on the road. Within six months Frank & Patty were performing at the Nevada Lodge Casino on the North Shore of Lake Tahoe.
On days off this musical couple always enjoyed seeing landmarks and learning more about the places they were playing. At one such visit to Donner monument Frank was so taken with their story that he was inspired to write what became the first of many songs with a historical theme. Frank and his band recorded "Donner Pass" and the song caught the community's interest and was adopted by the Truckee~Donner Historical Society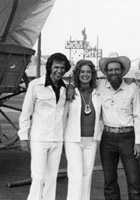 The Frank Fara show, featuring Patty Parker, quickly gained fans on the casino circuit. Frank's writing also got a lucky break. He was commissioned by Cactus Pete's casino to write and record a tune on local 1890's legend Diamondfield Jack. The Bicentennial Wagon Train which was making it's trek across the country met up with Frank & Patty in Jackpot, Nevada. There the wagon master Justin Coon picked up copies of both Frank's historical songs, "The Saga of Diamondfield Jack" & "Donner Pass" for inclusion in the Bicentennial Time Capsule at Valley Forge, Pennsylvania.
Frank & Patty visit Billy the Kid's tombstone
The road years allowed Frank to visit many legendary places in the Old West ~ whose celebrated events he would later bring to life in songs for both his and Patty's albums ~ The bullet pocked adobe walls along the Arizona-Mexico border provided the inspiration for his Pancho Villa song.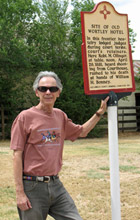 The OK Corral in old Tombstone prompted him to write Tombstone Legacy ~ the town's own story in song ~ Seeing the two banks in Coffeyville ~ still standing defiantly ~ motivated his double or nothing misadventure of the Daltons.
Frank Fara and Patty Parker decided to close down their successful road show to form their own record label ~ Comstock Records ~ named after the famous Comstock Silver Lode of Virginia City ~ which gave them a vehicle to continue their own music as well as work with other talented artists and their recordings. This proved to be a fortuitous decision for Frank's songwriting ~ as many other singers also chose to record his original tunes. Moving out west to Arizona sparked Frank's creativity for songs on Patty's album Southwestern Serenade and also provided inspiration for his own album Songs of the Untamed West.